Blondie Mansion Weekend 2023
WHAT IS BLONDIE MANSION?
Blondie Mansion is committed to assisting creatives and entrepreneurs achieve their goals and vision. Blondie Mansion cultivates creativity and community growth by building innovative experiences that fuse business, music, art, and impact.
WHAT IS BLONDIE WEEKEND?
Blondie Mansion Weekend is an experience curated for entrepreneurs and creatives. This event will provide an evening of networking, live entertainment from local talent, live artistry, and poetry. Followed by a day of experience, access to resources, empowerment and elevation taught by industry professionals and experts. You'll leave this weekend with a virtual rolodex of inspiring connections, a newfound knowledge of industry trends and an experience you won't soon forget. And best of all, you'll have the chance to make magic happen in a vibrant community of creative dreamers and doers. So, what are you waiting for? Get your ticket now and get ready to make connections and create lasting memories!
CREATIVITY

It's one thing to have a room of creatives. It's another thing to combine that creativity and to work as a group to create together. At Blondie Mansion Weekend, you will have the opportunity to connect in a more intimate environment to foster true creative connection.

BUSINESS

Having a safe space to truly learn, vent, and network is essential to survival and growth. At Blondie Mansion Weekend, we are creating intentional spaces for business owners to truly disengage from their every day operations and plug into a community of their own.

IMPACT

Blondie Mansion is focused on elevating the trajectory of this community. Through partnerships and collaborations, impact is reached. You will have the ability during this weekend to focus on and cultivate your impact factor for the rest of 2023 and going into 2024.
DAY 1 | SEPTEMBER 29TH CONNECT & VIBE with BLONDIE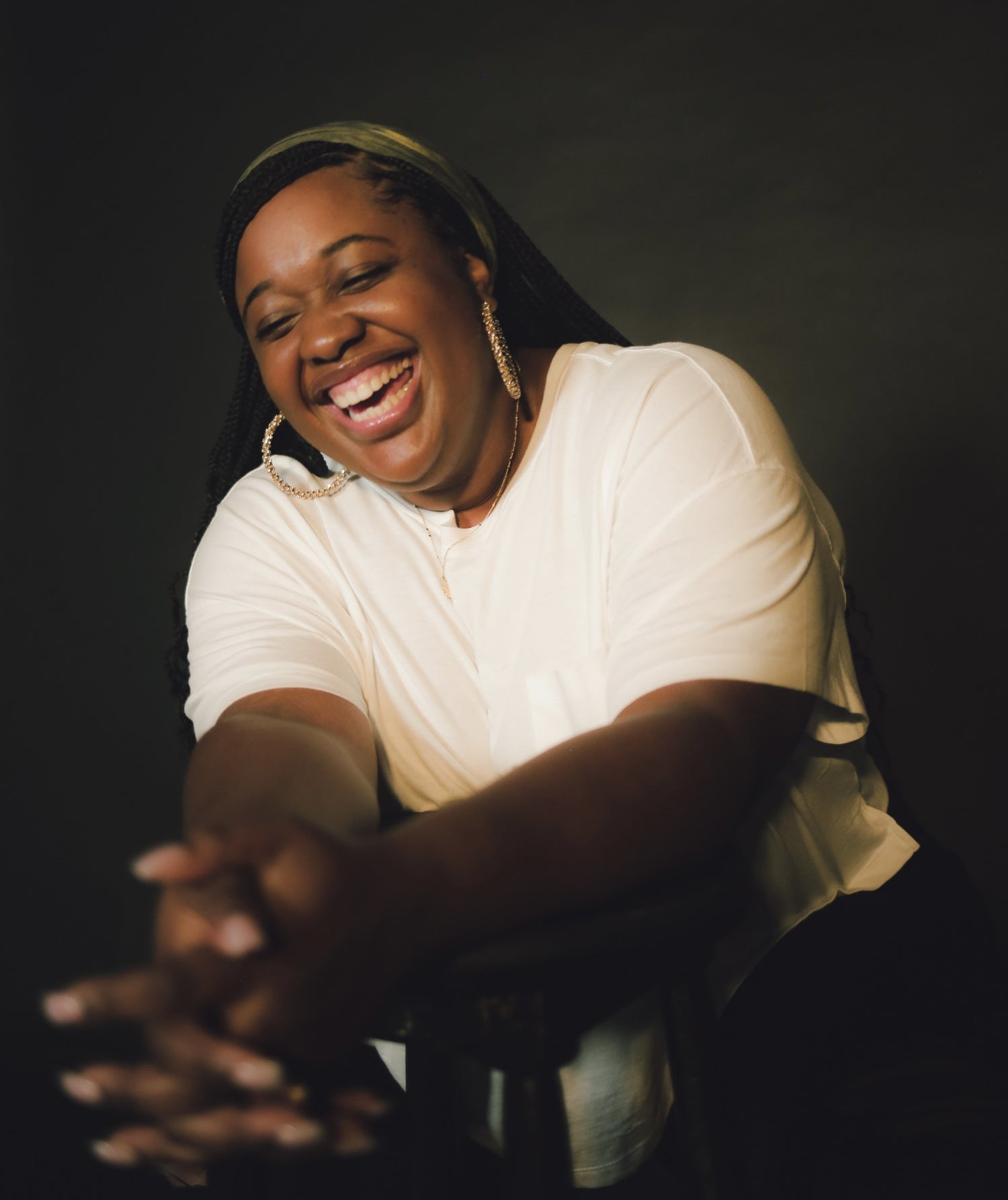 Featured Artist: Eriah Love
Eriah Love is known to wow the crowd with her deep, sultry, butter-like voice. Stomping the grounds of Wilmington, Delaware, Eriah began using her voice to entertain many audiences for as long as she can remember. Love eventually took her talents to The University of the Arts in Philadelphia where she earned her Vocal Performance degree. After graduating, she became a teaching artist for Christiana Cultural Arts Center, Delaware Shakespeare, and Wilmington Children's Chorus, just to name a few.
Featured Artist: Harvey Road
Darrell "D Harv" Harvey Jr. is a Delaware native who prides himself on being boundless in his art. Growing up, he spent most of his free time perfecting his craft by writing poetry and listening to gospel music.
While many would try to squeeze him into one neat and easily defined musical
genre, his musicality allows him to fit any style.
Due to his lyrical charisma, D Harv has gained notoriety in various arenas. He currently produces and host a show called Bringing Back Bars ("BBB") which is dedicated to giving artists in the tri-state
area a platform to showcase their musical talents. Several singers, rappers,
and musicians have been on this stage including his band, Harvey Road.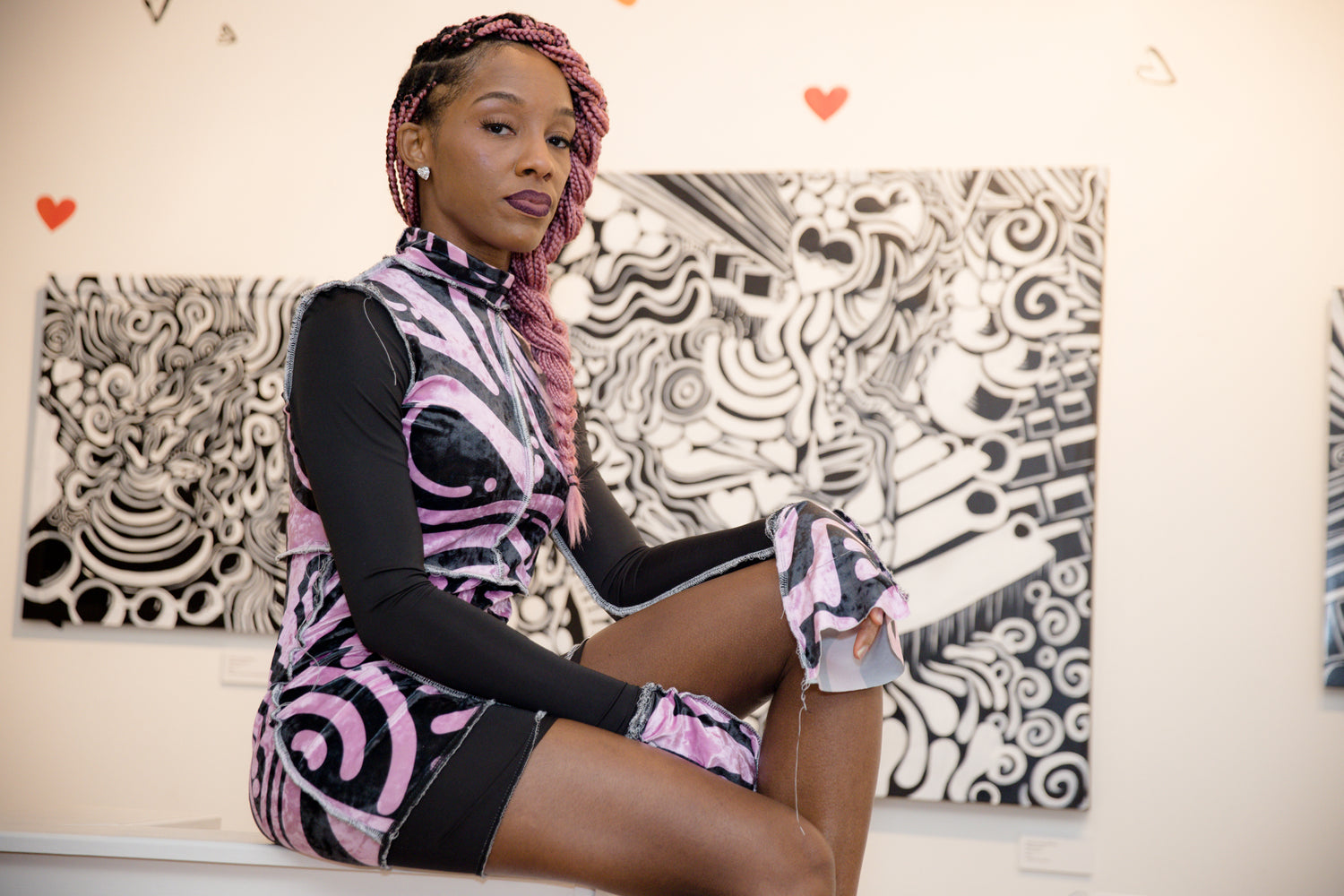 Featured Multidisciplinary Artist: Shonte' Young-Williams
Black American multidisciplinary artist Shonté Young Williams focuses on Illustration, Graphic Design, and Painting, with a degree in Visual Effects and Motion Design from The Art Institute. As a designer she specializes in album covers, social and digital marketing, as well as, merchandise. Her artistic output is a mantra of color, shape, and movement that mixes fantasy and therapy.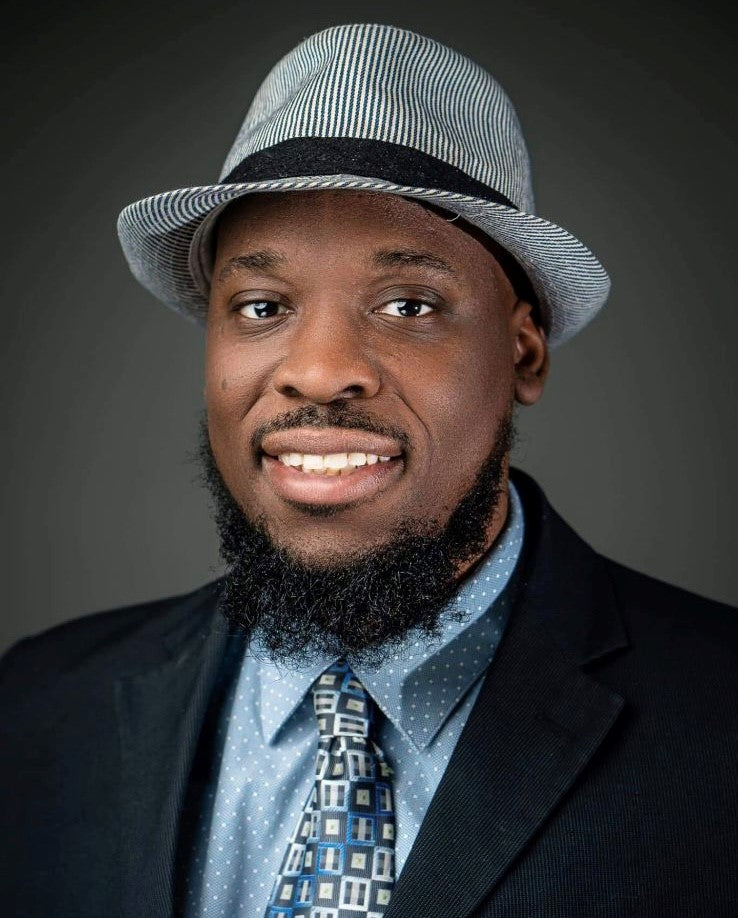 Connect & Vibe Host: G'Jurel "G Dash" Jones
G'Jurel "G Dash" Jones is a published author,  spoken word artist, Improv Poet, facilitator, promoter, and host. He published his first book in 2020. De X De Vol. 1 The Willing is the first to be released in the trilogy. G Dash's stage shows are guaranteed to engage and invoke laughter and genuine emotion. His improv shows bring the audience into a relatable interactive space that feels good. He has learned to infuse his style with other artists in ways that create once-in-a-lifetime moments. G Dash Is an active member of the Delaware Music Network, as an organizer, host, promoter, and artist consultant of His show Hat's Off w/ G Dash Jones on Instagram live.
DAY 2| SEPTEMBER 30TH LEVEL UP & LEARN with BLONDIE
Jason Aviles

Jason Aviles a proud Dad, is the owner of FLYOGI, a mobile Yoga company that facilitates a holistic development program within schools, corporate environments and communities at large, Co-Owner of Green Box Kitchen, an award winning fast casual vegan restaurant, and Project Director of Wilmington Green Box, a 501(c)(3) Non Profit program that develops teens into skilled change-makers while providing communities access to healthy food. 

Genesis Dorsey

Genesis Dorsey is passionate about serving entrepreneurs and leaders as a speaker, consultant, and teacher. She has spent over 10 years working with faith-based organizations and non-profits of all sizes as a digital infrastructure consultant. In the past five years, she has worked with small business-focused organizations and SBA-powered programs as a teacher and advisor. Genesis balances this while serving the family business, a 20-year-old private school that includes a preschool and elementary school in New Castle, Delaware.

LaVante' Dorsey

LaVante' Dorsey is the owner of LaVante' N. Dorsey & Associates LLC, remarkable public speaker, and Licensed Clinical Social Worker. With over 15 years of experience in the field of Social Work, Ms. Dorsey and her associates have become well sought-after experts in mental health, self-care, effective organizational leadership, adolescent and adult empowerment.

Logan Herring

Logan Herring, raised in Wilmington, DE, is the CEO of The WRK Group (The Warehouse, REACH Riverside, and Kingswood Community Center).  Logan started his work in the Riverside neighborhood of Wilmington in 2016 as the Executive Director for Kingswood Community Center (KCC), which includes an early learning academy, before and after care, and senior center. Logan holds a B.A. in Business Management from Goucher College and a certificate in Non-Profit Leadership from Boston College. In 2018, Logan was recognized as a Delaware Business Times 40 Under 40. In 2021, Logan was named CEO of the Year for Large Non-Profits and one of Delaware Online's Most Influential Delawareans in 2021 and 2022. Additionally in 2021, Logan received the Lieutenant
Governor's Wellness Leadership Award for innovation in the workplace by addressing staff's mental health and well-being.

Ashley Christopher, Esq.

Ashley Christopher is a mother, CEO, Attorney and Survivor.  A mother to her son, Ryan; CEO of HBCU Week Foundation; licensed to practice law in the state of Pennsylvania; and stroke survivor. Ashley founded HBCU Week Foundation in 2017, a company whose mission is to encourage enrollment into HBCUs, provide scholarship dollars for matriculation and sustain a pipeline of employment from
undergraduate school to corporate America. The purpose of HBCU Week is to gather high school aged students and expose them to the historical significance and proud legacies of HBCUs, with the goal of those students considering HBCUs for higher education opportunities HBCU Week offers an authentic homecoming like experience, featuring a weeklong of activities.

Cris Cavallari

Today, Cris stands as the proud owner of iccon HQ, a cutting-edge content studio where innovation meets creativity. Through her platform, she champions the idea that success comes from embracing one's genuine self, both in business and in the journey of womanhood. With a wealth of experience and a heart full of empowerment, Cris assists other women in harnessing their potential, providing them with the tools to tap into their authenticity. 

Destinee (Des) Brown

Destinee Brown is a passionate bodywork specialist and the visionary founder of The Universpa, a pioneering company that embraces a naturopathic approach to healing. With a deep appreciation for music, art, and culture, Destinee seamlessly incorporates these elements into her practice, creating transformative and holistic healing experiences. Through The Universpa, Destinee's innovative approach has guided numerous individuals on their path to optimum well-being and vitality.

Malcolm Coley

I'm the Chief Technology Officer for Futures First Gaming and the Director of Digital Media for Influencers Lab Media.

Lanice Wilson

I was introduced to juicing over three years ago by my daughter, Anuuma. I immediately fell in love with it as I am always intrigued by foods that can be used as medicine. I worked at the Riverfront for over five years. While journeying towards a healthier lifestyle, I often wished there was a juice bar in the area that offered fresh and healthy beverages + meal options. It was a consistent feeling, and after thoughtful consideration, I decided to make that wish a reality. February 1, 2019, The Juice Joint was born and we opened our Riverfront location on July 17, 2020.  To further my connection to community wellness and holistic wellness, I decided in June 2023 to launch The B.E. Suite.

Natosha Rivera

Natosha Rivera is certified holistic health and wellness coach helping high-achieving women reclaim their time and implement breakthrough success habits that revitalize their mind, body, and spirit. She's a certified life coach and passionate woman of faith who leads online and in her community with powerful conviction as she spreads contagious joy and empowers women to live unapologetically.

Joshua Hollingsworth

Joshua Hollingsworth is the founder & CEO of Unified Creative Exchange, LLC (UCE), a for-profit management agency + gallery aiming to serve the needs of artists, communities, businesses and nonprofit groups. By providing creative support, diverse opportunities and platforms, valuable idea development and management services.

Kamil Bass-Walker

Meet Kamil Bass-Walker, a dynamic 36-year-old entrepreneur originally from Newark, NJ, who has brought his passion for health and wellness to Wilmington, DE. After years of honing his skills and knowledge in the bustling streets of Newark, Kamil decided to make a bold move and establish his own juice bar in the heart of Wilmington. With a deep-rooted commitment to promoting a healthier lifestyle, Kamil has created a welcoming haven where locals can enjoy delicious and nutritious concoctions that cater to a wide range of tastes and dietary preferences. His journey from Newark to Wilmington has not only showcased his dedication to his craft but also his determination to positively impact the lives of those in his community.

David Lassiter

David is the CEO of "Lassiter Financial Group". An accounting firm based out of new castle county Delaware. Their clients range widely from highway construction companies, real estate developers, and media creators to restaurant owners, non-business owners and more. Their services include accounting, bookkeeping, financial planning, budgeting, and tax preparation for both business and personal. David is also the CEO of "The Lassiter Foundation". A non-profit based in Wilmington Delaware which prides itself on volunteering and being a positive influence on the communities it services.

Emir Lake

With a love of photojournalism for much of his adult life, Emir Lake decided to immerse himself into the world of photography back in 2017 and hasn't looked back since. Inspired by many iconic photographers, Emir wanted people to have the same feeling when viewing his work that he felt when he would see the work of those in the industry whom he admired. As a self-taught photographer, Emir consistently pushes the envelope on his creativity & thrives on diversifying his talents to capture unique & gripping images.

Raven Robinson

Raven Robinson is a young, innovative political strategist and public relations consultant from
the Bronx, New York. She is also CEO of PR2Politics, a PR consulting firm that provides public relations and governmental affairs services to political candidates, public figures, non-profit organizations, and business owners. Since its inception in 2009, PR2Politics has been a part of several NYS Senate, Assembly, and NYC City Council campaigns, helping some of the most prominent leaders secure political seats such as NYS Senator Kevin Parker. Raven's bottom line is to bridge the gap between government, business, and community.

Sara A. Crawford

Sara A. Crawford is a visionary leader, entrepreneur, and fashion designer/stylist with over 15 years of experience in the fashion industry. As Director of The Women's Business Center (WBC) at True Access Capital (TAC), she has transformed the center's reach, programming, and services, making it one of the top WBCs in the nation. Through her leadership and guidance, Sara has mentored numerous female business owners and helped over 15,000 individuals in business training related topics and counseling.
THE SCHEDULE
FRIDAY: VIBE WITH BLONDIE

ACCESS PASS INCLUDES OPEN BAR + APPETIZERS

Kick-Off Blondie Mansion Weekend on Friday, with Collaboration, Networking, Live Entertainment and more! We Promise it will be an experience you won't forget!!!

6pm: Registration & Happy Hour
7pm: Connect & Network
8-10pm: Visual Melodies Stage - live band, spoken word, and live painting.

Location

MKT Place Gallery

200 West 9th Street

Wilmington, De 19801
SATURDAY: LEVEL UP WITH BLONDIE

ACCESS PASS INCLUDES BREAKFAST, OPEN MIMOSA BAR, LUNCH & SNACK BAR

9am: Registration & Breakfast
10am: Morning Meditation Session
10:30am: Get Money - Strategies to monetize your business & create wealth!
11:30am: Level Up - Brand Elevation – Strategies to grow your Brands Story and get to the next level
12:30am: LUNCH BREAK
1:30pm: Press Play: Turn your side gig into your main gig!
2:30pm: Blondie Builder: How to build strategic partnerships and alliances to level up and land the deal. Powered by Wilmington Alliance
3:30pm: SNACK BREAK
3:45pm: Business Unplugged: The unspoken truth on being a business owner, from triumph to defeat. Ask us anything!
5:00pm: Be Well: Techniques on how to manage anxiety and maintain better wellness!

Location

The Westin Wilmington

818 Shipyard Drive

Wilmington, De 19801
BLONDIELAND

OPEN HOURS:
Friday 6-9pm | Saturday 11am - 5:30pm

Take a mental break during the day and visit Blondieland where you are able to create, shop, and relax.

Blondie's Flower Market:
- Build your own Bouquet
- Selfie Stop (Photo Backdrop)
- Blondie Marketplace (Vendors)
- Create Your Own Sugar Scrub
VENUE | DAY 1
MKT Place Gallery
200 West 9th Street
Wilmington, De 19801
Free Street Parking
In the Heart of Downtown
Wilmington's Financial District.
Featuring
Live Entertainment
Tasty Treats
Cocktails
And so much more...